We are currently beta testing a revamped checklist tool! Please
test it out
and send us feedback/errors!
The current checklist tool below will be retired in the coming months.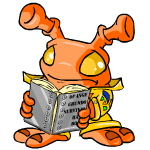 Welcome to Jellyneo's Booktastic Book Checklist Tool! From here, you can easily see which Booktastic Books your Neopet has not read. To get your list, simply follow the instructions below.
See Also: Book Checklist | Gourmet Checklist | Avatar Checklist | Neodeck Card Checklist
What are Booktastic Books?
Booktastic Books are sold on Neopia's moon, Kreludor. Bernard, the book shop owner, started his own book award to compete with the widely popular regular Neopian Book Award. With the relatively low number of books available for reading, achieving the Booktastic Honourary Member Award is actually rather easy, and it's a nice, less expensive alternative to trying for the regular Book Award! To rack up points, simply buy a Booktastic Book, visit your inventory, click on it, and select which pet to read to. The book will automatically be added to their Booktastic Books read list. But remember, each book is a one-use item, so if you want to read one to all your pets, you will have to purchase multiple copies! You can find a complete list of Booktastic Books in our Item Database.

Looking for a regular book checklist? Click here.
To Begin:
Visit the Quick Ref page.
Under the Neopet you wish to use, click their intelligence link to visit their Books Read page.
Then, up at the top, click the link to visit your pet's Booktastic Books Read list.
On the Booktastic Books Read page, right click on the page and select "View Page Source."
In the coding that pops up, press CTRL + A on your keyboard to select all of the text, and then CTRL + C to copy it.
Come back here and in the text box below, hit CTRL + V to paste in the coding.
Submit the form, and see what books your pet needs to read!
---
See Also: Book Checklist | Gourmet Checklist | Avatar Checklist | Neodeck Card Checklist
Quick Links: Jellyneo | Forums | Item DB | Book of Ages