We are currently beta testing a revamped checklist tool! Please
test it out
and send us feedback/errors!
The current checklist tool below will be retired in the coming months.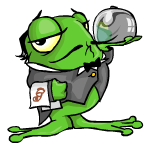 Welcome to Jellyneo's Gourmet Club Food Checklist Tool! From here, you can easily see which Gourmet Foods your Neopet has not eaten. To get your list, simply follow the instructions below.
See Also: Book Checklist | Booktastic Checklist | Avatar Checklist | Neodeck Card Checklist
What are Gourmet Foods?
Any food that is between rarity 90 and rarity 100 is classified as a Gourmet Food. You can check an item's rarity by typing its name into the Neopets search bar, or by clicking on the item in your inventory. You can purchase Gourmet Foods at any of the official Neopian shops that sell food, or through user shops. Their prices range from a couple Neopoints to over thirty million! If your pet is a true gourmand, they might receive the Gourmet Club Honourary Member Award on their lookup, or an even better trophy!





To Begin:
Visit the Gourmet Club page.
Right above the high scores table, find the link to the list of Gourmet Foods your pet has eaten. Click it.
On the food eaten page, right click on the page and select "View Page Source."
In the coding that pops up, press CTRL + A on your keyboard to select all of the text, and then CTRL + C to copy it.
Come back here and in the text box below, hit CTRL + V to paste in the coding.
Submit the form, and see what Gourmet Foods your pet needs to eat!
---
See Also: Book Checklist | Booktastic Checklist | Avatar Checklist | Neodeck Card Checklist
Quick Links: Jellyneo | Forums | Item DB | Book of Ages