Change Log
Below you can find a list of changes and feature updates we've made recently around the Item Database!
---
November 19, 2022
We've updated our contact form so that when you click special buttons around the site (like "Report an Error" or "Submit a Report"), the item will now be pre-filled out for you!
---
November 5, 2022
We've revamped our Trading Post Tagging feature! It received some TLC under the hood, and we'll now be featuring fresher lots to tag. You should also see a much faster turnaround time on verification, and if you've ever hit the "no lots left to tag" message before, the queue can be filled up much more quickly now! Lastly, we've bumped up the points you'll receive for tagging: 2 points for every tag, even if it's unpriced; and new bonus points if we can use your tags on other identical lots.
All points and existing progress remain in tact, and you'll be able to continue making progress right where you left off.
Your contributions help our staff with pricing unbuyable items when we review their Trading Post histories to determine an asking price.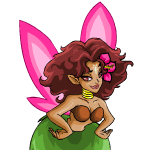 Give it a Try »
---
October 21, 2022
A new "At the Cooking Pot" section has been added to item pages to indicate if the item you're viewing is used as an ingredient in a Cooking Pot recipe. Check out Purple Negg for an example:
---
October 21, 2022
A Random Item option has been added! Find it under the "Items" menu in the top navigation.
---
August 22, 2022
We've added a search bar to wishlist management pages to allow you to filter your lists by item name. This update should help a bit on those with larger wishlists!
---
August 22, 2022
Item pages for restockable items (r1 through r100 items in most item categories) will now display the range of possible restock prices.
An item may restock for a range of prices, depending on its Est. Value and Rarity. Some items also have a minimum floor price, which means it'll never restock for lower than that even if its calculated range would allow it. Simply look the item up to see the possible values!
You can read more about Est. Values and restock prices in our Est. Values Explained article.
---
July 5, 2022
A new "Readable" category has been added to all items that can be read by your Neopet. We hope this will allow you to better identify items that are readable outside of the typical "Book" shops, such as the Negg Scroll.
This category uses the same logic that our Book Checklist and Booktastic Checklist tools and our All Books special search use to identify books!
---
July 1, 2022
The display limits on the Recently Retired and Retiring Soon pages have been bumped up to display up to 250 items. (All the Altador Cup items were cutting other items off!)
---
June 21, 2022
We've made looking up "base colour" petpets easier around the Item Database! A "base colour" petpet is defined as the original version of a petpet, such as the Mazzew or Fir. You might also think of them as "unpainted."
To help find these unpainted petpets, we've added a new Base Colour Petpets special search. We've also updated the Petpet Matcher to include "Base Colour" as a search option.
---
February 28, 2022
We've made some changes in our backend tools, and now codestones, dubloons, and collectable checklist items (books, gourmet foods, Neodeck cards, and album items) will receive more frequent price checks by our staff.
---
February 20, 2022
A new Share the Love Community Challenge special category has been added.
---
December 14, 2021
Wishlists now have the ability to set the sorting to "Stamp Album Position", so if you have any album item wishlists, you can view them in the same order as they appear in the Stamp Album on Neopets. You can choose this sorting method in the "Settings" section of the wishlist you have in mind.
We've also tweaked how sorting by "Stamp Album Position" works in both wishlists and in Item Database searches. Previously, if you sorted by position, all items in position #1 would be grouped together, then all those in position #2, etc. Going forward, items will now be sorted by album page (Mystery Island first, then Virtupets, etc.) and then sorted by position on that page.
For a sampling, check out our All Album Items special search.
---